Independent Ipswich Charity Emmaus receives £30,000 Grant from Suffolk Freemasons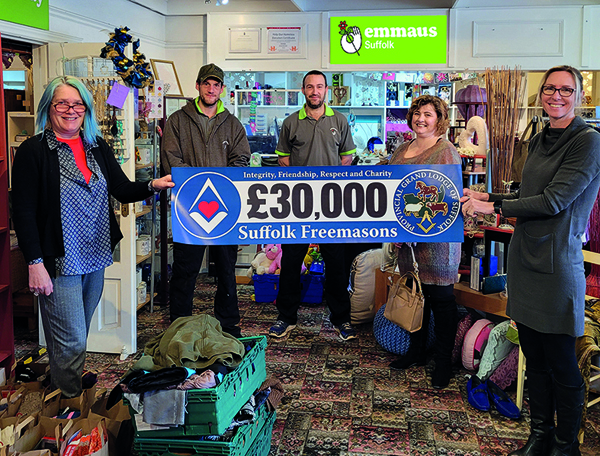 Emmaus Suffolk first opened it's doors in 2016 and since then have grown rapidly and now run groups and workshops on a regular basis in Ipswich and Felixstowe to support those within the local community who would otherwise be socially isolated, are struggling with long-term unemployment or are at risk of homelessness. Emmaus Suffolk provides work opportunities and experience through their shops in Felixstowe and Ipswich, as well as in a new warehouse on the waterfront in Ipswich. Among those volunteering with Emmaus Suffolk are those who have been unemployed for a long time, and through offering volunteering roles Emmaus Suffolk gives people the chance to make a difference for themselves, in a supportive environment through work related experience and training.
The amition of the charity is to introduce to Suffolk new ways of tackling entrenched homelessness and unemployment by enabling and empowering people to help themselves through meaningful activity that will benefit both themselves and others. Claire Staddon, Chief Executive of Emmaus Suffolk said "We are incredibly grateful to Suffolk Freemasons for their generous grant, which will enable us to offer a second community house. Our houses give people who would otherwise be homeless or insecurely housed a safe place to call home. People living within our Community Houses receive support to live as independently as possible. They can claim Universal Credit and are responsible for managing their own budgets, paying their bills and shopping and cooking for themselves. They still receive support from the Emmaus Suffolk team, but we do not have a staff member living on-on site. Our companions volunteer up to 15 hours a week in our social enterprises, giving them hands on experience, training and a supportive environment in which they can reach their full potential. The aim of our Community House is to provide a stepping stone to help people rebuild their lives and move on to live and work completely independently. But, like at all Emmaus communities around the UK, there is no time limit on the support offered, and our tenants are free to stay for as long as they want to."
Deputy Provincial Grand Master of Suffolk Freemasons, Tim McCormick added "We are very pleased to be able to give our support to Emmaus, they do wonderful work supporting people and their families throughout our local community and we know that this grant will help them to further develop the vital work they offer." The grant from Suffolk Freemasons comes through the Masonic Charitable Foundation, which is funded by Freemasons from across England and Wales.
For more information about the charity visit emmaus.org.uk/suffolk/