NHS, Social Care & Frontline Workers' Day on 5th July 2021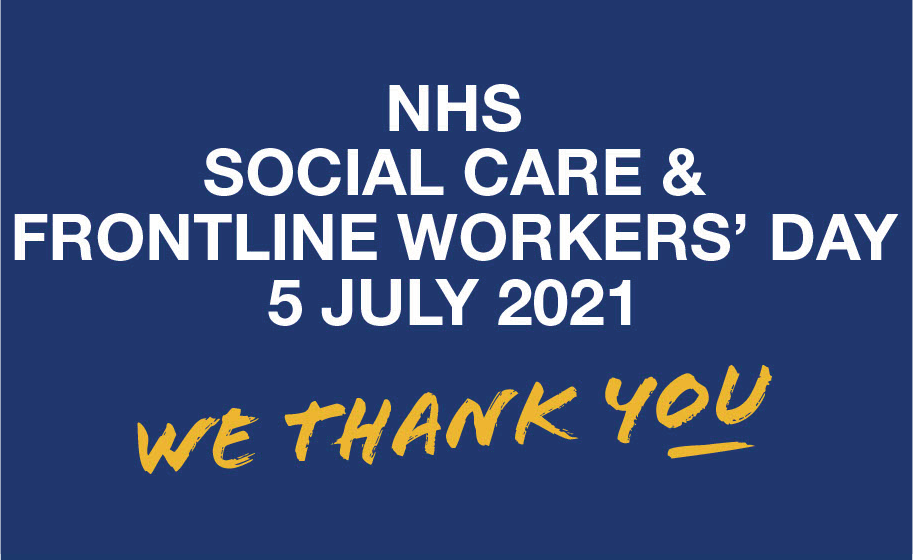 Suffolk Freemasons are playing their part in NHS, Social Care & Frontline Workers' Day to celebrate all those who have worked so tirelessly to help our country through the Coronavirus crisis, and who continue to support some of the most vulnerable people in society. Organised nationally by Pageantmaster Bruno Peek LVO OBE OPR, NHS, Social Care & Frontline Workers' Day takes place on 5th July this year, with events throughout the United Kingdom, Channel Islands, the Isle of Man.
We have organised various events across the county in Bury St. Edmunds, Diss, Felixstowe, Framlingham, Halesworth, Ipswich, Lowestoft, Saxmundham, Stowmarket, Southwold, Sudbury and Woodbridge.
Bob Lee, Assistant Provincial Grand Master of Suffolk Freemasons commented: "This is a wonderful opportunity for us to pay tribute to all the local doctors, nurses, care workers and other frontline staff who played such a key role in saving lives and keeping essential services going when Covid-19 struck our country. Their commitment and sense of duty was an inspiration to everyone and this is our chance to say a huge thank you to every single one of them."
The NHS, Social Care & Frontline Workers' Day was conceived and organised by Pageantmaster Bruno Peek LVO OBE OPR, who has organised national and royal events for 40 years, including key aspects of Her Majesty The Queen's Golden and Diamond Jubilee celebrations and 90th Birthday Beacons celebration. Bruno said: "July 5th 1948 was an historic moment in our country's history. It was the day our pioneering National Health Service (NHS) was born, bringing free healthcare to everyone. We have treasured it ever since, but never more so since March 2020 when the Coronavirus pandemic gripped the UK and utterly changed all our lives. "We were suddenly at war with a ruthless, invisible enemy and on the front line were our NHS doctors, nurses and paramedics, plus platoons of critical workers keeping our shops open and stocked, our streets safe and our essential services running. "Now we have the chance to show our gratitude to all NHS and frontline staff with what I believe will be an annual day of thanks, and remembrance of those who lost their lives because of this dreadful disease."
National Schedule:
10am Raising and Displaying the NHS, Social Care and Frontline Workers' Day Flag.
11 am Two-minute silence and playing of The Last Post and Reveille.
1pm The Nation's Toast to the Heroes of the NHS, Social Care and Frontline Workers*
1pm Street, Garden and Village Parties, and Parties at Home.
4pm Afternoon Tea.
8pm Clapping our Heroes and the Ringing of Church Bells 73 times to represent each year of the existence of the NHS.
More information on NHS, Social Care & Frontline Workers' Day can be found at www.nhsfrontlineday.org