The three millionth teddy to be given to poorly children across England and Wales has been presented, with Suffolk Freemasons playing a big part locally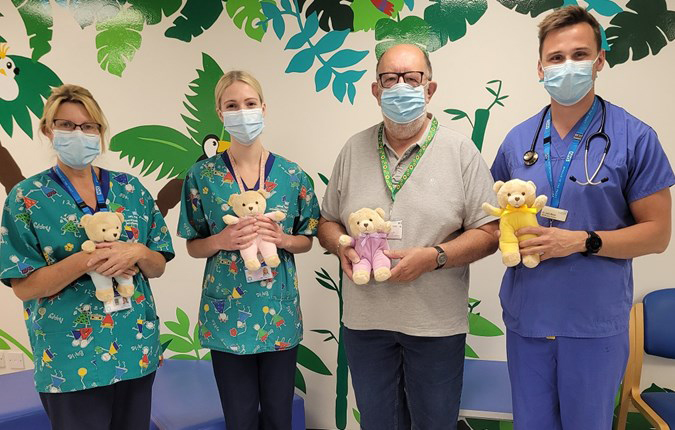 Dave Wilson, TLC Co-ordinator for Suffolk Freemasons delivering teddies to the A&E Department at James Paget Hospital in Gorleston
Suffolk Freemasons have given teddies to 14500 children at hospitals across Suffolk since the TLC (Teddies for Loving Care) scheme began in 2001. The bears are given to children in hospital to comfort them or reward them for their bravery. Children are often first met by a bear when they arrive at a hospital Emergency Department to provide comfort and reassurance, in what can be a scary and unknown environment. The bears are used to demonstrate procedures, with doctors and nurses often showing children the procedures on the bear, before performing on children. The James Paget Hospital in Gorleston commented "Suffolk Freemasons have been raising funds to buy teddy bears for children arriving in A&E and this has resulted in hundreds of bears being donated to our team over the years for us to pass on to our younger patients who are in need of a friend during their hospital visit. More TLC Bears arrived recently and we would like to say a big 'thank you' to all the Suffolk Freemasons involved for this thoughtful donation, which we know will continue to bring smiles to the faces of the young patients who have to come into our Emergency Department".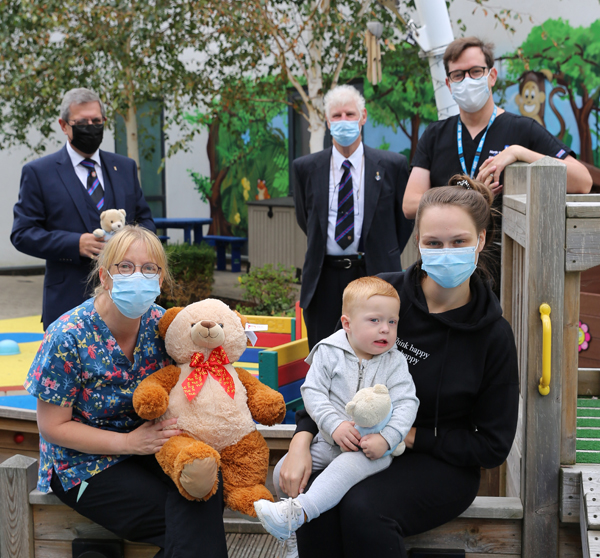 The three millionth bear was presented to Jackie James, Play Specialist at Peterborough City Hospital, in the hospital's Amazon Children's Garden,
by Dr David Staples a hospital Consultant Physician and CEO of the United Grand Lodge of England.
Speaking as she received the three millionth teddy, Jackie said: "The Teddies for Loving Care bears are very special to us in the Emergency Department and have a wonderful, positive impact on children who are receiving care. When a child first arrives at hospital not only are they feeling unwell but they may also be feeling scared and anxious. The little TLC teddies provide some comfort and really help make them feel at ease".
Dave Wilson, TLC Co-ordinator for Suffolk Freemasons said "This simple but effective idea was started in 2001 and we will continue our efforts to donate these bears to children in hospitals across the county when they are at their most vulnerable."
For more information about the charity visit teddiesforlovingcare.org.uk
or contact David Wilson, Suffolk TLC Co-ordinator, This email address is being protected from spambots. You need JavaScript enabled to view it.