Foodbanks receive a Christmas boost thanks to Suffolk Freemasons
Freemasons from Suffolk have made a series of festive grants to foodbanks across the county totalling £12,000 as part of a nationwide Christmas Campaign. The grants are expected to help in excess of 1,300 people in Suffolk with food, meals and hampers over the Christmas period with foodbanks predicting an unprecedented demand for their services this Christmas following the upheavals of the pandemic, continuing supply chain problems and rising fuel bills. The six local charities each benefitting from £2000 grants are: Gatehouse East Anglia in Bury St Edmunds, Ipswich FIND Families In Need, The Waveney Foodbank, Stowmarket Foodbank (New Life Church Suffolk), IP17 Good Neighbour Scheme in Saxmundham and The Basic Life Charity in Felixstowe.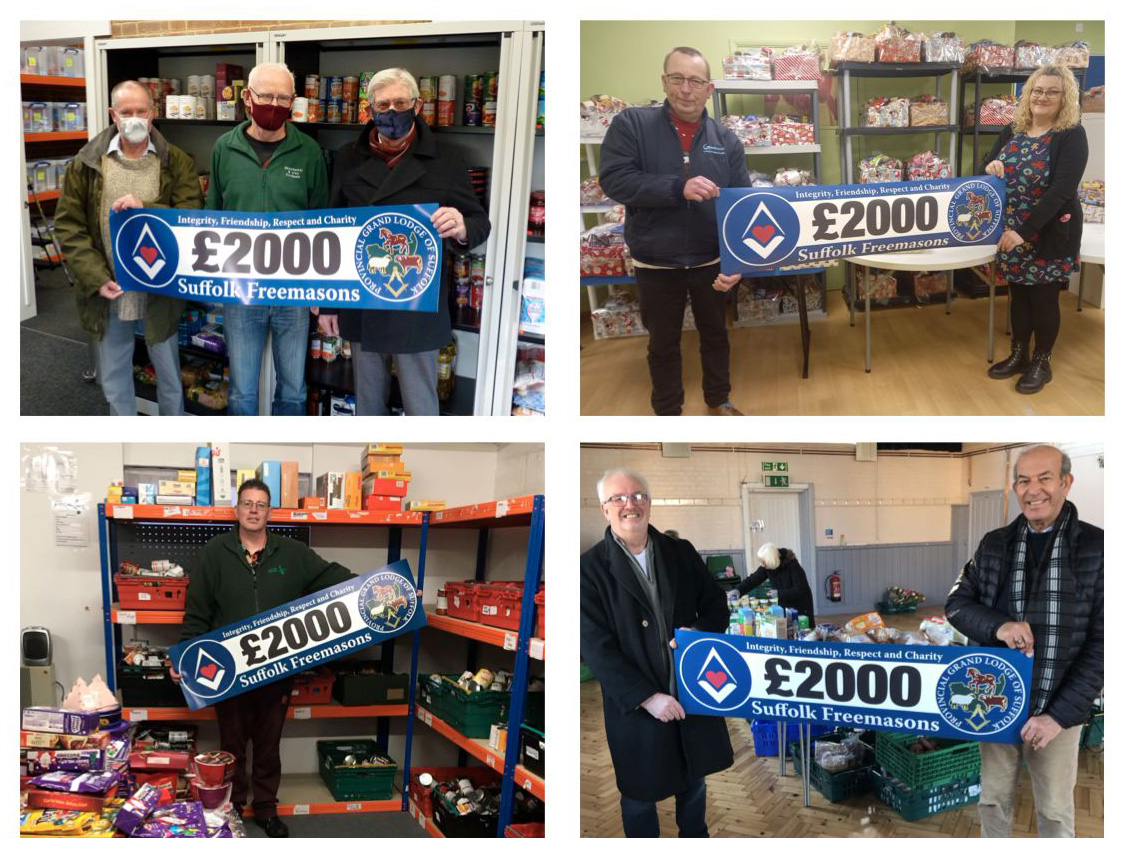 Mike Smith from the Stowmarket Foodbank, commented: "We're very grateful to Suffolk Freemasons for their generous grant, which will be an enormous help as we look to support record numbers of people over the Christmas period. They gave us very valuable support during lockdown and it's great that this vital assistance is continuing. Thanks to them we can continue to help people who really need it". Founder of Basic Life Charity, Mr Graham Denny, thanked Suffolk Freemasons for their support and said "This donation will assist the charity in their support of around 200 people in the Felixstowe area over the Christmas period".
Rick Orme of Suffolk Freemasons, added: "I'm very pleased that we have been able to help our local Foodbanks with their hugely important work over the festive season. We were able to support them throughout the pandemic and we're happy to help them again during what will be a very difficult Christmas for the most vulnerable people in our community". The grants are financed jointly with the Masonic Charitable Foundation, which is funded by Freemasons, their families and friends, and is part of a nationwide donation of £343,000 to 135 foodbanks who are supporting 65,000 people across England and Wales.
Further Information: Kelvin Avis, Communications Officer,  This email address is being protected from spambots. You need JavaScript enabled to view it.